LeBron James follows Steph Curry back to Warriors bench in weird moment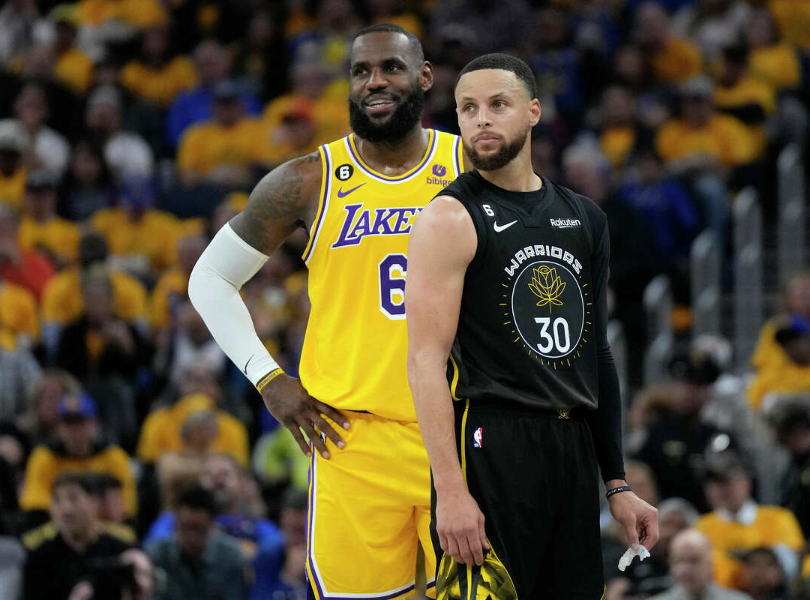 LeBron James provided easily the goofiest moment of a tight first half of
Lakers-Warriors
Game 1 on Tuesday night. James followed
Steph Curry
from half court all the way back to the Dubs bench as Curry exited the game, lingered as Curry high-fived coaches and teammates, and then after talking directly at Curry -- who never made eye contact -- finally stepped away from the bench and resumed the action on the court.


The footage, captured by TNT Overtime -- a complimentary feed available on NBA.com with no announcers and a host of alternate camera angles -- showed Curry shaking his head as LeBron appeared to be talking in his direction. James keeps talking in Curry's direction even after the Golden State star sits back down on the bench, and Curry keeps his attention focused on the floor, his teammates or the court the entire time.
The Warriors bench largely doesn't engage with James, although Jonathan Kuminga, Gary Payton II and Kenny Atkinson seemed to smile at James' antics.


The whole thing was odd, especially in light of what happened during the Lakers' last series. After some inflammatory comments from Dillon Brooks, James had a similarly odd and in-the-open
conversation with Brooks
. The Memphis swingman went on to have a disastrous series that ended with
the Grizzlies saying Brooks would not return to the team
"under any circumstances."

After the Warriors' 117-112 loss,
Curry said that James
"was just joking around about having to guard me all the way till I got to the bench."
---